THE RESPONSIBLE TOURISM SYSTEM AND BIOSPHERE
The Responsible Tourism System (RTS) is an international system focused on seeking tourism sustainability, developed by the Responsible Tourism Institute through a set of guidelines that establish concrete, identifiable and measurable goals.
The Responsible Tourism Institute (RTI) is an entity linked to UNESCO through a Memorandum of Understanding and an associated member of the World Tourism Organization (UNWTO), as well as being a founding member of the Global Sustainable Tourism Council (GSTC), an organization sponsored by the United Nations Foundation. It was conceived at the request of the UN following the first World Conference on Sustainable Tourism (1995), an historic meeting in which UNESCO, UNEP, the European Commission and UNWTO supported the creation of the World Charter on Sustainable Tourism from which the Responsible Tourism Institute was born.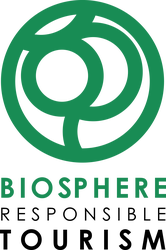 Twenty years later, following the UN World Summit on Sustainable Development (2015), which adopted the 17 Sustainable Development Goals (SDG), the RTI promoted the celebration of a new World Summit on Sustainable Tourism, which again had the support of the same international organizations for the adaptation of global sustainability criteria to the 17 Sustainable Development Goals, this time adopting the World Charter on Sustainable Tourism +20.
The Responsible Tourism Institute is responsible of promoting tourist models that contribute effectively to the maintenance and protection of heritage, cultural and natural assets of the destinations. Its ultimate goal is to promote sustainable development within the tourism industry and encourage the use of the endogenous capacities of each destination and host community. The recognition of these efforts by the Administrations and entities involved consists of the BIOSPHERE TOURISM© seal, through which the work carried out is acknowledged.
The BIOSPHERE TOURISM© Seal is a system for measuring sustainability, aiming to act as a tool for continuous improvement and thus recognize this commitment of tourist destinations, companies and services. Positioning a destination, company or tourist service as sustainable requires the adoption of an integrated planning and management perspective of the entire tourism system, so that current and future needs are met, while maintaining cultural integrity, social cohesion and essential ecological processes. The BIOSPHERE TOURISM© standard for Tourist Destinations is the only one in the world aligned with the United Nations Sustainable Development Goals (SDG), as well as with the COP21 Paris Agreement to Combat Climate Change and the World Charter Sustainable Tourism +20.